We have IllinoisCarry t-shirts, caps!
Be your own walking billboard for Right to Carry in Illinois!!
 
Items can be purchased via IllinoisCarry PayPal donation link or by sending a check to: IllinosCarry, 1615 Co.Rd. 325 E, Enfield, IL 62835 - Shipping fees combined on multiple items!
IllinoisCarry T-Shirts $20 + $2.50 shipping
T-shirts come in Medium, Large, XL, XXL, and XXXL.
Colors available in most sizes: gray, pink, tan, forest green.





IllinoisCarry caps $20 + $2.50 shipping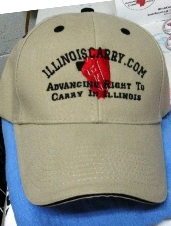 Key ring/bottle opener or regular key ring.
$10 each plus $1.50 shipping