It's that time of year again, the sign shop is chugging along.
The main components of the signs are the 11 x 17 cardboard and the handles: 1.5 inches wide, about 1/4 to 3/8 inch thick and 35 inches long, with 8 inches of the handles secured in a slot in the sign. Two 11 x 17 photocopied messages are rubber cemented on (to prevent wrinkles), one to a side. These can be peeled off later and a new message cemented on.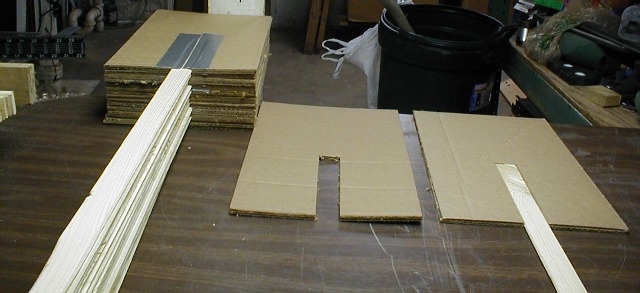 Double thickness (275 # ) cardboard appliance boxes work best, and a table saw (10") with 200 tooth plywood blade makes nice clean cuts - at the cost of a lot of "fluff" debris to clean up (even WITH a vacuum system) Try doing this with box cutters for more than a few signs and both your accuracy as well as hands and arms will suffer. Especially when starting with larger boxes.
Single thickness THICK cardboard can work with 1/4 inch thick handles, but usually the soft wood makes them rather "wavy".... The thinner cardboard is best glued into a double layer. I used up 1/2 gallon of white non-toxic water clean up Elmer's glue. I might yet regret the choice because they might warp if exposed to high humidity. The double glued sheets were clamped for 24 hours with about 20 # of weight.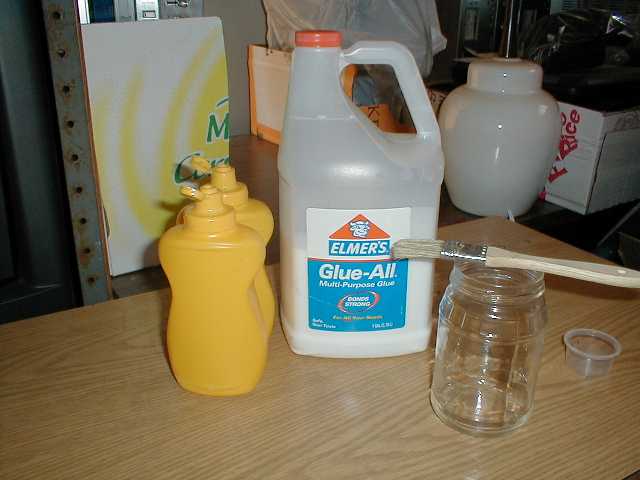 Yes, that's 150 additional signs, besides the pre-existing 50 I have and up to 200 scattered between Champaign (IGOLD 2009, Thank You, CCRA!!) and Chicago (SAFR 2008, 2009 )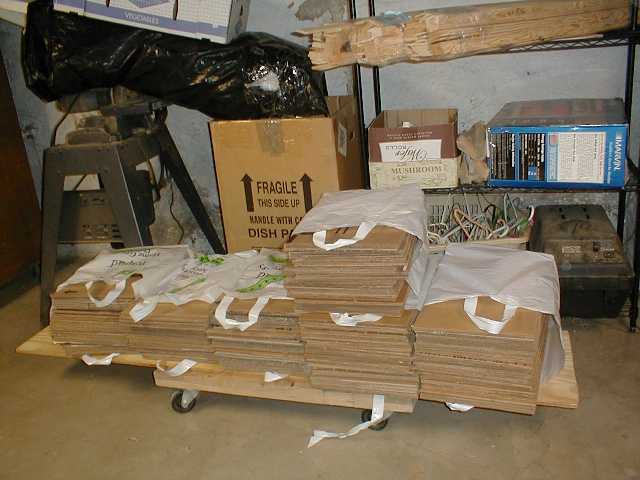 After the 11 x 17 cardboard was cut to size and glued if necessary, the 8 inch slots for the handle were cut, using a scrap piece of handle as a spacer to the saw's rip fence to ensure repeatability. NOTE: it's 1.5 inches MINUS the width of the saw blade to get the proper slot width. A powerful magnet was used as an 8 inch depth stop. Finally the box cutter was used to cut across the saw cuts to empty the slot.
(my pinkies never got closer than 10 inches to that saw blade)
The handles are currently strips of 48 inch lath cut down to 35 inches (44 inches overall = 35 - 8 + 17) - which allows more to be fit into a single vehicles trunk, than could be done with full 48 inch sticks (57 inches overall = 48 - 8 + 17). This allows cutting out knots, splits and gross imperfections from the raw material near the ends.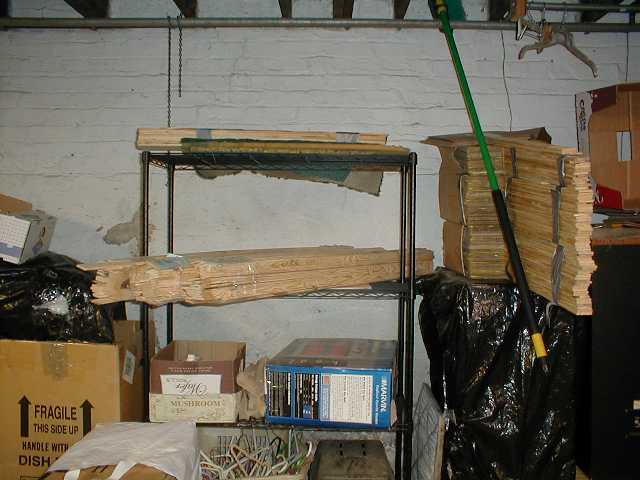 The raw material is (has been) bundles of lath, usually 50 pieces for $8.00 from a major hardware "box" store: "M". But the quality of this year's lath from "M" was a major disappointment, I have only been able to use about 80 of the 150 I purchased last Saturday - EVEN with careful siting of the trims and 13 inches of scrap per stick. I am getting another bundle from smaller "CB" and we'll see how useful that stuff is. As it is I was forced to make 4 saw passes per handle to put 30 degree bevels on the corners in an attempt to reduce handling splinters.
I am seriously contemplating getting 35" pieces of quality lumber and ripping them down longitudinally to make my own lath next year - better quality control than they seem to be able or willing to muster. I'll be better able to match thickness of handle, strength of handle and required thickness of cardboard - with the aim of avoiding gluing cardboard. I'll still have to "break" the sharper corners from my saw, but that's a small price to pay for consistency.
Once the handles are ready they are inserted in the slots and 4 strips of "duct" tape secures the two components. IF the pocket is cut carefully, the handle has to be pushed in from the end and results in a very secure joint.
AS for what's ON the signs, that will be another thread... In the Back Room.
Oh, and yes, finger check: 1 2 3 4 thumb thumb 7 8 9 10
All Present and accounted for, SIR!!!